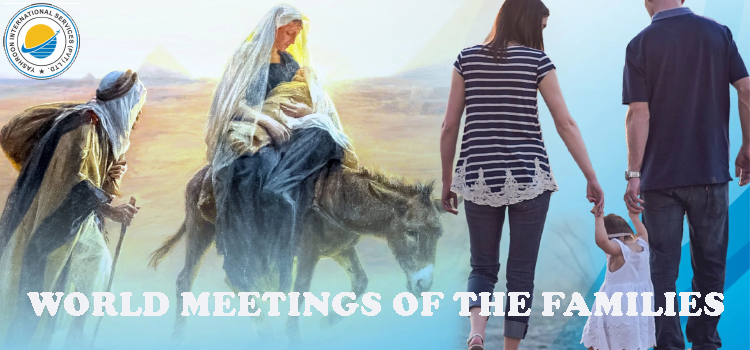 World Meeting of Families
The Pontifical Council for the Family, founded by Blessed Pope John Paul II in 1981, is responsible for the promotion of the Church's pastoral ministry to the family, with the goal of helping Christian families fulfill their apostolic mission as the "domestic church" and fundamental building bloc of society. This Council promotes the pastoral care of families and fosters their rights and dignity in the Church as well as civil society in order that they may fulfill their vocation for the well-being of one another and the world around them. It began in 1994; the World Meeting of Families has sought to strengthen the sacred bonds of family across the globe. This event takes place every three years and is sponsored by the Holy See's Pontifical Council for the Family.
1994 was declared an "International Year of the Family" by the United Nations. Pope John Paul II wanted the Church to also celebrate this Year of the Family, and so the 1st World Meeting of Families was held. It took place in Rome on 8 and 9 October 1994 under the guidance of the Pontifical Council for the Family who went on to organize all subsequent WMFs.
10th World Meeting of Families 2022 Rome Italy
The World Meeting of Families is a gathering of the Roman Catholic Church that has occurred every three years since 1994.The Christian Family: Good News for the Third Millennium.Pope Francis has chosen this theme for the next World Meeting of Families, which will take place in Rome in June 2022. "Family love: a vocation and a path to holiness." As the announcement from the Dicastery for the Laity, Family, and Life reads: "On the fifth anniversary of the apostolic exhortation Amoris Laetitia and three years after the promulgation of Gaudete et Exsultate, this is intended to highlight family love as a vocation and as a way of holiness, so as to understand and share the profound and salvific meaning of family relationships in daily life."
It is Pope Francis himself who is presenting the X World Meeting of Families, to be held from June 22-26, 2022.The Meeting, initially planned for 2021, will be held from June 22 to 26, 2022, in a time of hope and rebirth. The event, as also emphasized by the Holy Father, will take place in an unprecedented and multi-centered format, with local initiatives in dioceses around the world, similar to those that will take place simultaneously in Rome. While Rome will remain the designated venue, each diocese will be able to be the center of a local Meeting for its own families and communities. This is to allow everyone to feel like protagonists at a time when it is still difficult to travel because of the pandemic.